Houten
Objecten
van
Rik Mars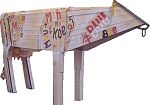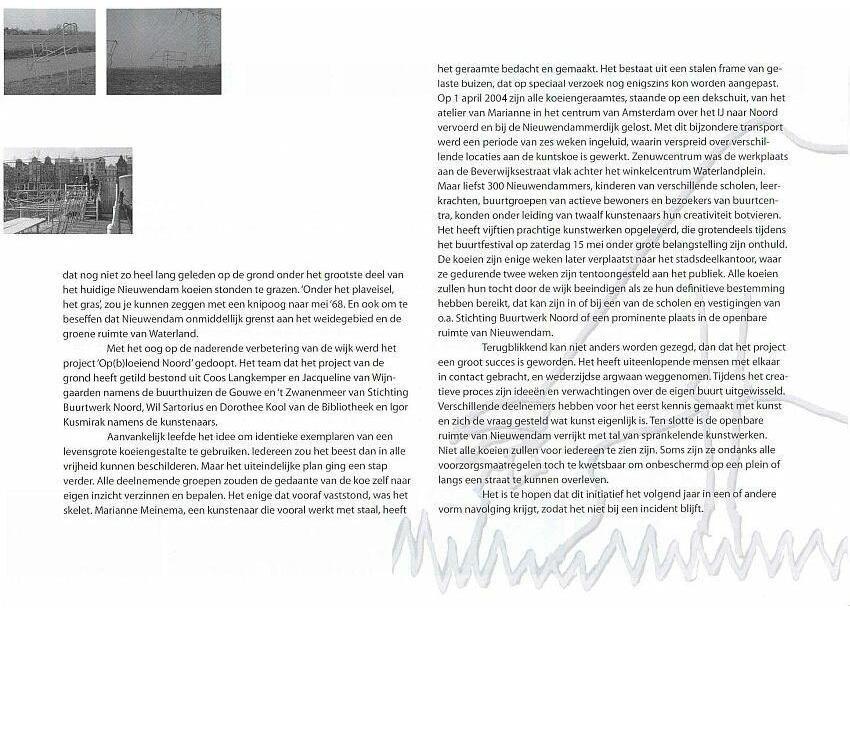 translation, continued
Bl(moo)ing North
that no too long ago cows were grazing on the very soil Nieuwendam stands now. And also to promote the awareness that Nieuwendam borders to the green landscape of Waterland.
versnippeKeeping in mind the upcoming improvements of this part of town, and reversing the deterioration, the project was baptised "Bl(moo)ing North". The team initiating the project consisted of Coos Langkemper en Jacqueline van Wijngaarden representing the welfare services de Gouwe and 't Zwanenmeer of foundation Buurtwerk Noord, Wil Sartorius en Dorothee Kool representing the district library and Igor Kusmirak representing the artists.
versnippeAt first there was the idea to use identical life size cow figures. Everyone could paint them the way they liked. But eventually the plan went one step further. All participating groups would have to decide on their own shape for the cow. The only thing that was certain was the frame of the cow. Marianne Meinema, an artist working mainly in steel, constructed the skeleton. It consists of a frame of welded tubes. On special request it could be adapted. On the first of April 2004 all the cow skeletons were transported from Mariannes workshop in the centre of Amsterdam on an open barge across the IJ to North and discharged at the Nieuwendammerdijk. With this special transport a period of six weeks started in which, on several locations, people worked on the cows-of-art. Centre of activity was the workshop at the Beverwijkstraat, right behind the shopping centre Waterlandplein. Not less than 300 people from Nieuwendam, children from several schools, teachers, communities of residents and visitors of community centres, all guided by twelve artists, could express themselves on the cows. It resulted in fifteen beautiful pieces of art, which were unveiled at a festival on the fifteenth of May. Some weeks later the cows were transported to the municipal office in Amsterdam North, where they have been exhibited to the public for two weeks. All cows will end their quest reaching their final destination somewhere in Nieuwendam. For some it will be a school or a community centre, for others a fine place in public space in Nieuwendam.
versnippeLooking back, the project has become a great success. It has brought many different people together and removed reciprocal mistrust. During the process ideas and expectations about their own living area have been exchanged. Several participants have acquainted art for the first time and asked themselves what art is. Finally the public space of Nieuwendam has been enriched with bright works of art. Not all cows will be visible for everybody all the time. Some are to fragile to survive unprotected along a lane or on a square.
versnippeWe hope this project will be repeated in some shape next year. It should no be an incident only!