Houten
Objecten
van
Rik Mars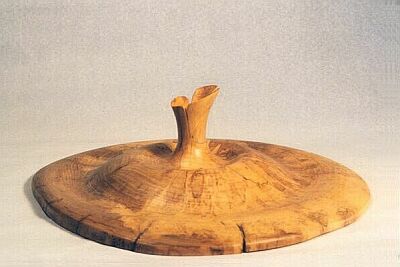 199,-
Splash ...
Elm (Ulmus sp.), varnished
diameter 33 cm, height 9 cm
2000
With "Splash ..." something disappears below the surface, stirring it violently.
The shape of the wood, especially this piece, confirms it multiply

I created "Splash ..." out of end grain Elm.
The shape represents the waves of the turmoil.
The growth rings are like the expanding circles on the surface.
On micro scale the parenchyma bands undulate within the year rings.
The colouring by the affect of fungus, finally, seems to be the result of the splashing...