Houten
Objecten
van
Rik Mars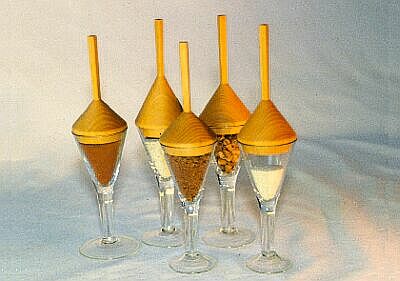 Hooded glasses
Glas and wood go wonderfully together here. Lids of elm (Ulmus sp.)
crown ordinary .gin-glasses. .Sloping .sides .that .vary .in .steepness
combine with square stems .growing .taller. .The .glasses .contain .a
collection from all over .the .world: .red .soil .from .Moçambique .and
Swaziland, .white .sand .from .beaches .in .South .Africa .and .seed-
vessels of an eucalyptus tree.
Dimensions: diameter 4,5 cm; the glasses being 10 cm tall,
the lids from 7,5 to 10 cm. The wood is varnisched.
1997