Houten
Objecten
van
Rik Mars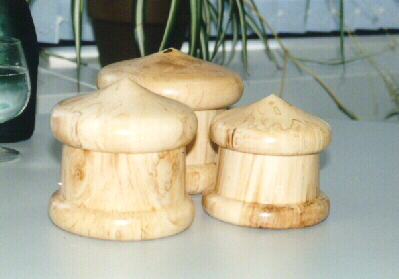 Three jars out of horse chestnut
The wood of a horse chestnut does not rank as very valuable.
It is rather soft and not too durable, but it can have a
beautiful grain. While having the shape sustain
it, a charming object comes into being.
Rik Mars created these jars in 1994.
Horse chestnut (Aesculus hippocatanum)
Dimensions: diameter 16 cm by 15 cm heigh for
the largest, and 13 by 11 cm for the smallest.